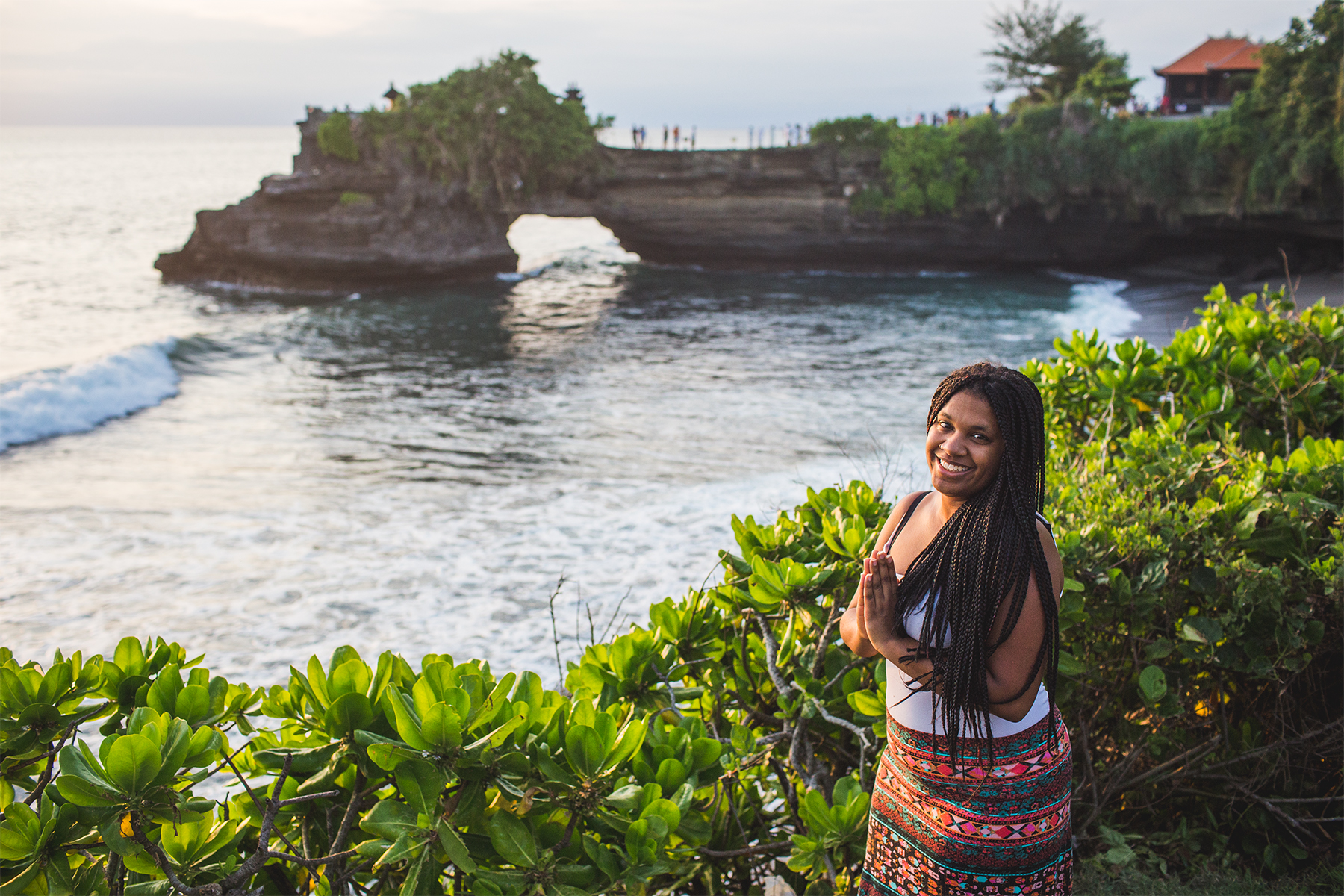 Vipassana Meditation | Bali, Indonesia Part One
Earlier this year I did one of the most challenging things I've ever done in my life – a 10 day Vipassana Meditation in Bali, Indonesia.
It has taken a long time for me to process the experience, so I apologize for not having written about it sooner – it has undoubtedly changed the shape of my life, and in a waterfall effect, the way that I shoot.
I have not done a great deal of traveling solely on my own in the past. With the exception of traveling to meet someone somewhere else in the world I had never simply boarded and plane and gone off to be somewhere else on my own. It is an experience I would highly recommend to anyone. There is something that touches you in a deep and vulnerable place when you arrive in a foreign country alone, not speaking the language.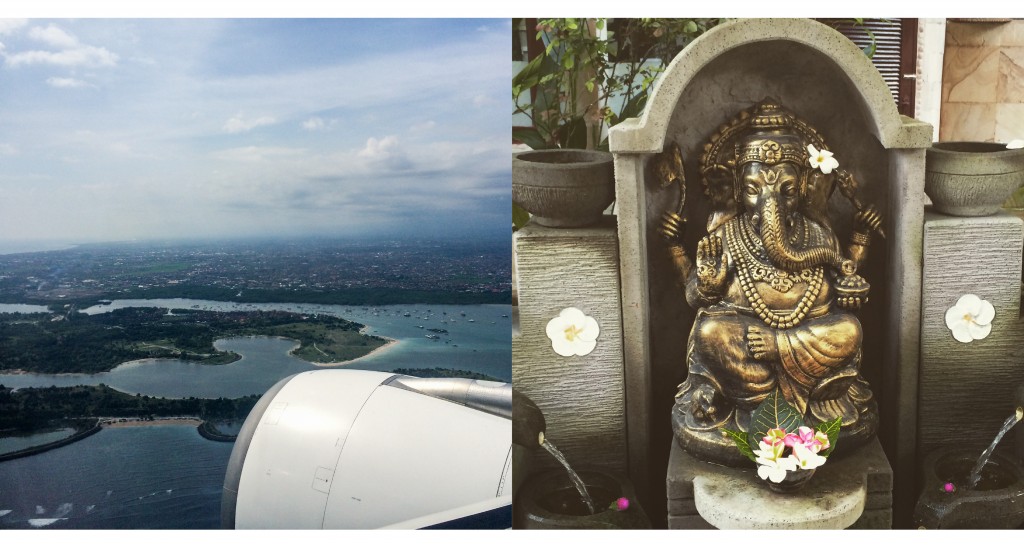 I arrived in Denpasar, Indonesia on a Monday afternoon. I had arranged ahead of time for a driver named Wayan to meet me at the airport and bring me to Canggu, a small fishing village between Seminyak and Tanah Lot. It was there that I met Daniel and Yatna. Daniel was a French-born expat who was married to Yatna, a Balinese woman and together they owned a small Yoga retreat called Serenity Eco Guesthouse. On their property they had a number of guesthouses and bungalows, a salt water pool, and a small restaurant that served raw vegan food. I was in heaven. The property is amazing. They grew their own food and medicinal plants on site, the building structures are all made from eco-friendly materials in the spirit of Tri Hita Karana (harmony between human, God and environment). I was sad I didnt bring my camera with me, but having to go into meditation for 10 solid days, I didn't want to risk losing anything important.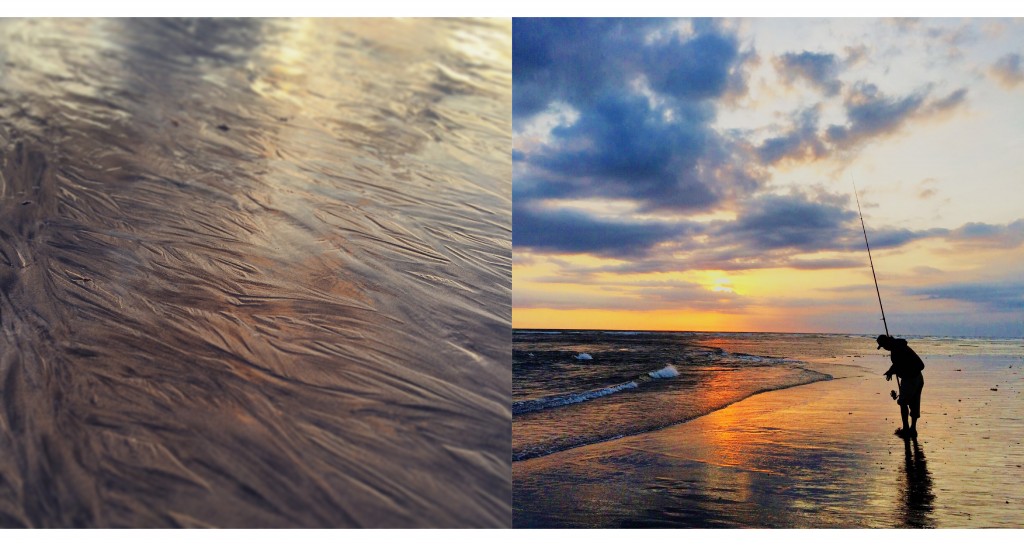 Daniel & Yatna were so kind and welcoming it warmed my heart deeply. I remember talking to Daniel late one evening about the fact that I was about to do a Vipassana meditation. He told me that he had done several, and that it would be a very challenging but rewarding experience, and once I was finished I was welcome to use the meditation room on site at my leisure. I happened to be reading Fear by Thich Nhat Han at the time which had been gifted to me by my friend Huy Nguyen from the Fearless Photographers at Foundation Workshop the previous year. Daniel had mentioned it was a book he had wanted to read as well, and asked if he could borrow it when I was finished. I was reluctant to give up the book, since it meant so much to me, and I wasn't returning to the guesthouse after the meditation which began in two days, and besides I hadn't finished it yet, but in my heart I felt I should leave it.
In the first few days I was shy. I hardly talked to anyone. Everyone seemed to know everyone else. I felt alone. I made friends with a little pregnant mutt. Each morning I would order a vegetarian breakfast, and each morning it would arrive with a side of bacon, which I would pass along to my furry, flea bitten friend.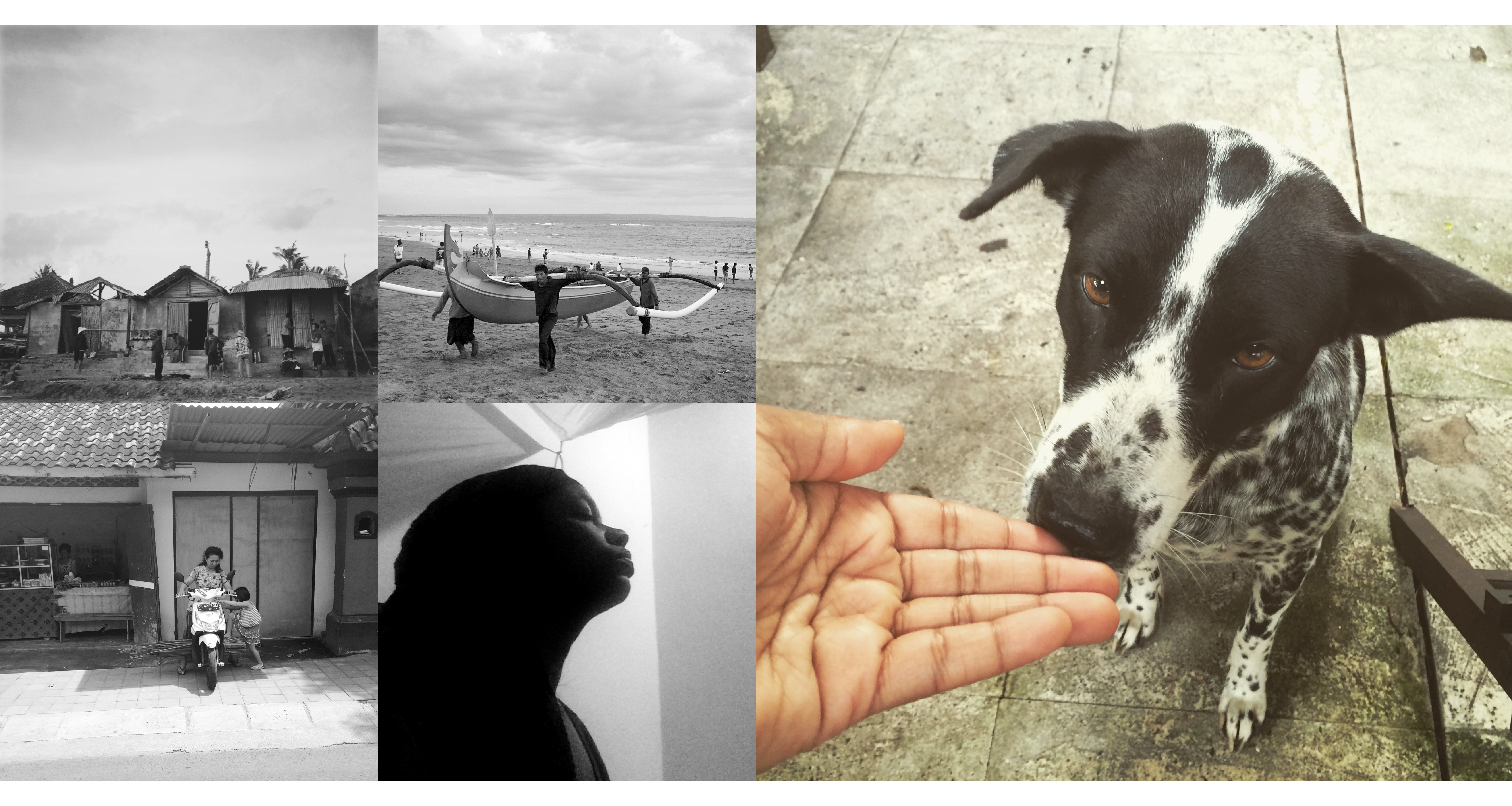 Jetlag got the best of me. I would wake at 2 or 3 in the morning each morning. Partially because it was lunch time back in Vancouver, but partially because the roosters would begin to crow around that time and would rouse me from my sleep. I felt lonely in that big bed all alone. I missed my kid. I missed Brad. I missed my friends. My internet was spotty and I felt a bit disconnected. I wanted to go out and explore but as a single woman alone I felt apprehensive, and I had heard that women walking around after dark had been subject to violence so I was  hesitant to leave the house after 5pm. As I came to see, throughout my trip however, the Balinese are a kind people who have a strong sense of community and work diligently to take care of each other. Looking back I wish I had explored more, but being that I was terrified to go out at night I made the most of my days and got up before sunrise to do my yoga so that I could walk down the to beach in the dim light and watch the day break. Being on that little beach in Canggu was like being on another planet. Fisherman carried out small pontoon boats to the water to catch their daily haul, and as the sun got higher and the sun warmed the sand, surfers began to make their way down to the shores.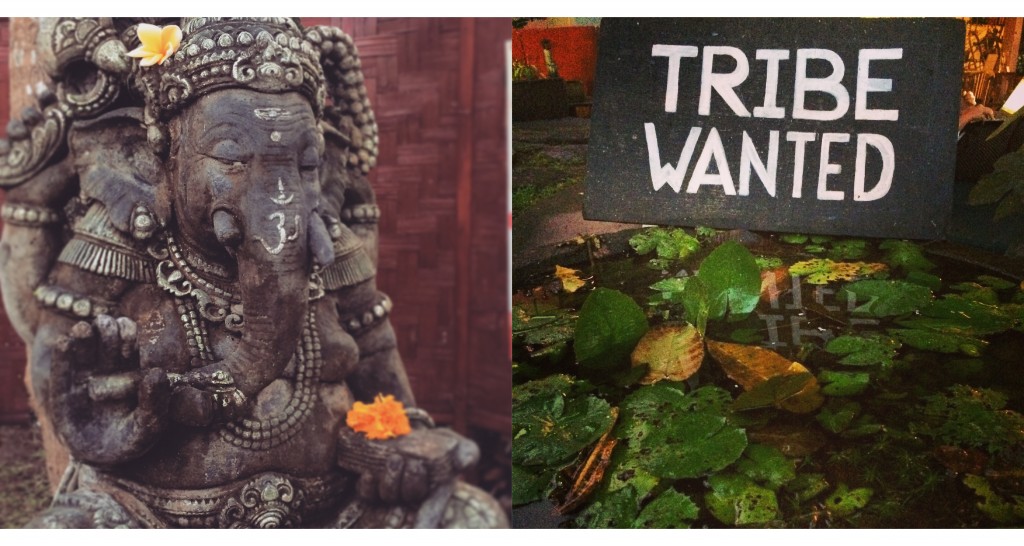 In the daytime I walked through the rice fields. I didn't realize how quickly storms blew into Bali, and one day got caught out in a particularly fierce thunderstorm, without an umbrella. It poured so hard and the wind blew so terribly that my clothes were practically see through and my braids were blown all over the place, straight up from my head. As I miserably trudged back to the guesthouse, a young boy and girl poked their head out of a small roadside warung and screamed out "Kali-Maa!" I assured them that I, in fact, was not Kali, half offended that they would equate me to what is arguably the most fearsome and terrifying looking goddess in the Hindu pantheon, but they chased me up the street singing my praise until I too, was laughing along with them. I had never pictured kali in a happy or cheerful context. I always pictured her with blood dripping from her mouth, her tongue extended, with a sickle and a human head in one hand and a necklace of skulls and skirt of human hands. Wild and primal- she is utterly terrifying. But despite that somehow she felt sing-songy as the children chanted her name. Upon my return I was greeted at the door by my pregnant pooch-friend, and I remember just feeling like I was home. I was drenched but the air was heavy and humid and warm and I felt washed somehow.
Feeling somewhat empowered I decided to sign up for a series of "beginner level" yoga classes. I say that in quotations because what I didn't know, what that they were actually fast-paced intermediate vinyasa classes with inversions. A little over my head, I was utterly exhausted and covered in more sweat that I knew a human could possibly sweat after each class. …but when in Rome, right? Maybe the children chanting Kali down the road invoked the goddess into me. I'll never know exactly, but I did discover a new found inner strength, and I began to feel a kinship with the fierce goddess. As I finished the Fear book, while sunning in the garden I remembered reading a passage about letting go, and in the pit of my gut I knew I should leave the book behind, despite my emotional attachment to it.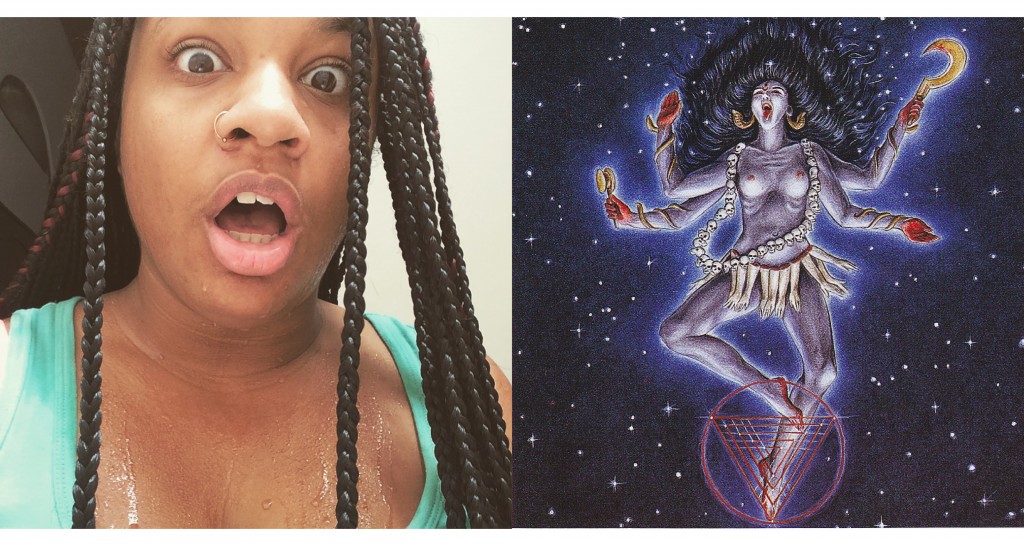 The morning I had to leave for the vipassana meditation I was anxious. I woke up extra early, well before sunrise, almost unable to breathe. I would travel to Kintamani where would I would spend the next 12 days. 10 of those days would be spent in complete silence, not allowed to make eye contact, or take part in any other world distraction, meditating deeply for roughly 15 hours a day. I had meditated before, but never more than maybe 30-45 minutes at a time. I didnt know if I would be mentally ready to live in an ashram meditating day in and out for almost two solid weeks.
Panicked I got out of bed and walked down to the ocean to watch the day break.
Standing at the edge of the sea I looked out, breathed deeply, closed my eyes and envisioned Kali. I envisioned myself wearing cloaks of fear, and I imagined taking them off and offering them up to her. I stood at the oceans edge, eyes closed, just breathing for nearly a half an hour, my hands folded at my heart. In my head I chanted Om Sri Maha Kalikayai Namaha over and over again. Part of me wanted to open my eyes, out of fear that I was about to get mugged but I felt into those fears and let them dissolve. Suddenly I was struck by a huge wave. Almost up to my waist. It nearly knocked me over. It was so cold, and shocking and startling, and when I opened my eyes in panic, I saw another storm had blown in and the sea was violent and rough. Shocked, I went to step back but the sea felt like it was sucking me out into it as the wave rushed back into the ocean.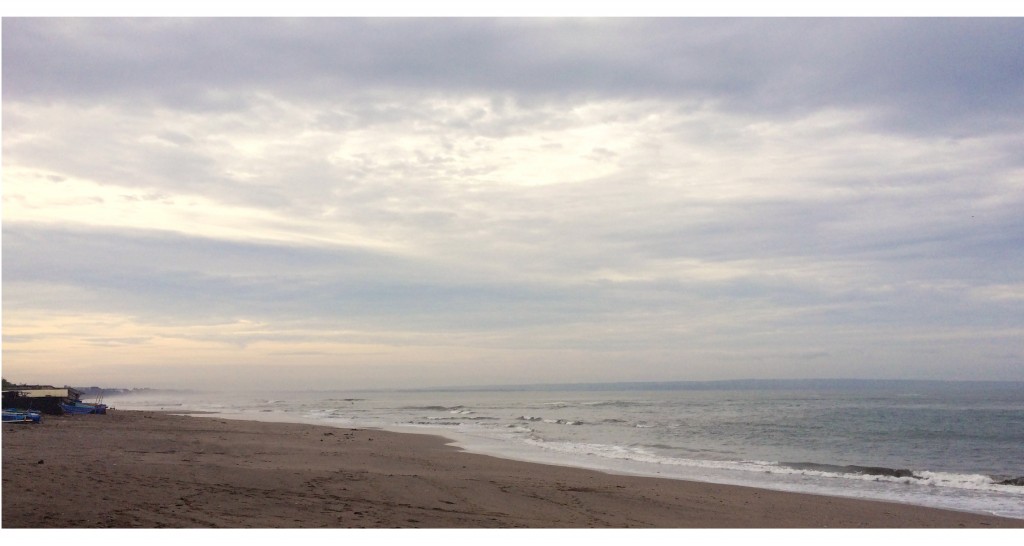 I struggled to catch my footing and was struck my another wave, this time soaking me through to my underwear. At first I was angry and upset to have to walk back to the guest house salty, sandy and with wet underwear. It wasn't like I would have time to dry my clothes or wash them again, and I was headed straight to Kintamani. Then it struck me that maybe the ocean itself was washing me clean of my fears and reservations. Maybe the energy of the ocean was the goddess herself reach up to wash me of those deep secret insecurities that make me feel like Im not good enough, not ready enough to be something greater than I am. I stood there letting the ocean soak me until I laughed out loud with glee. It was almost a hysterical laughter, half joy, half terror that a bigger wave would come and knock me down and drown me with no one around to save me in the barely breaking day on that desolate beach. The sun was up, and the storm had passed by the time I felt clean and energized. I walked back to the house with soaked pants and the biggest smile my face could manage. My cheeks hurt from smiling so hard. I must have looked crazy.
Still, reluctant to let go, I packed my Fear book into my backpack, despite having finished the book.
As I boarded the shuttle to Kintamani I caught a glimpse of Daniel out of the corner of my eye. I jumped up out of my seat, and asked the driver to wait for me, running back to the front desk to leave the book with a note, telling him I was leaving the book, but heading to Ubud after the meditation and would appreciate getting it back some day if it was possible. I let it go, and in that lobby left behind fear, hesitation, and my reluctance as I boarded the bus for my vipassana mediation.
…to be continued.