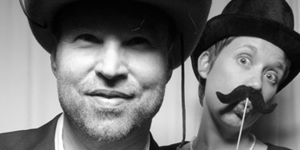 Congrats to Anna & Jay who rocked the photobooth on May 25th. We have to admit that of all the photobooth rentals we've been to Anna & Jay had some of the most creative guests we've ever seen in the booth! Anna designed her own photocard – which was an amazing sketch of their venue – The Heritage Hall on Main Street. Of course, we though that was super cool…we just so happened to get married in the same venue 2 years ago! Jay & Anna rented out the tickle trunk prop box and opted for black and white pics – a really classic looking photobooth combo! We were so honoured to be a part of their special day, but were even more honoured with some of the messages Anna sent us after the event!
"Thanks Brad… You were great, everyone loved the booth, especially the kids…The disk arrived before the strike– looks great. If we ever get married again ;)  I'll certainly give you a call!"
Thanks again for sharing such an amazing day with us! We wish you both a lifetime of joy and laughter!
-B + K.