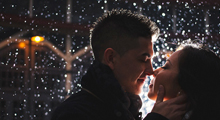 Award Winning Wedding Photographers | PWOC
We are completely and humbled and stoked to learn we've won 7th overall for Engagement Portraits, for Spring 2013 from the Professional Wedding Photographers of Canada. This is the second award we've won in 2013, along side the 2013 bride's choice award. This has been a remarkable year for us! Thank you everyone who has helped to make our dream a reality.
Much love to all of you.