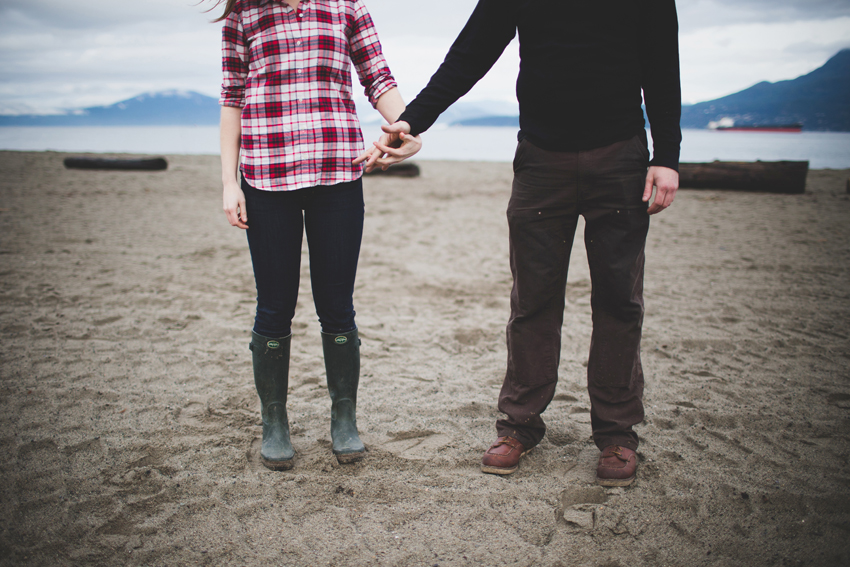 Jericho Winter Beach Engagement Session | Lindsay + Phil
For Lindsay & Phil's engagement session we hit up the winter beach in Vancouver back in January.
Pre-wedding / engagement portraits are a great way to begin to get confident in front of the camera. It's been our experience over the years that most couples do not feel terribly comfortable with a camera in their face right from the get go. I swear half of what we do is shoot, and the other half is relaxing & motivating people to be interactive in front of the camera & giving them a safe space to be intimate and loving together. People are always unsure of where to stand, how to pose themselves or what to do. In order to help couples relax into the session we usually recommend doing an activity together – it can be as simple as walking the dog, or as wild as going hot air ballooning – anything to get their mind off the fact they are getting their pictures taken.  When we get a sense that couples are unsure of what to do we may step in with simple flattering poses that they can find their own comfort level in. We really try not to go into sessions with a lot of expectations since every couple we meet interacts with each other so differently. Some couples are very lovey-dovey, others laugh together or poke fun of each other. Intimacy looks different for everyone and there isn't really a right or wrong way to do it.
We LOVED Phil & Lindsay's engagement session. It was an early morning to get up and to the beach before the sun came up but the light is so beautiful at that time of day, and great light is essential to great portraits!  Phil and Lindsay were quick to warm up and start teasing each other and laughing together. It made it so easy to capture them in an honest way. We love this two, and felt super blessed to document their wedding earlier this month. Can't wait to share that too!