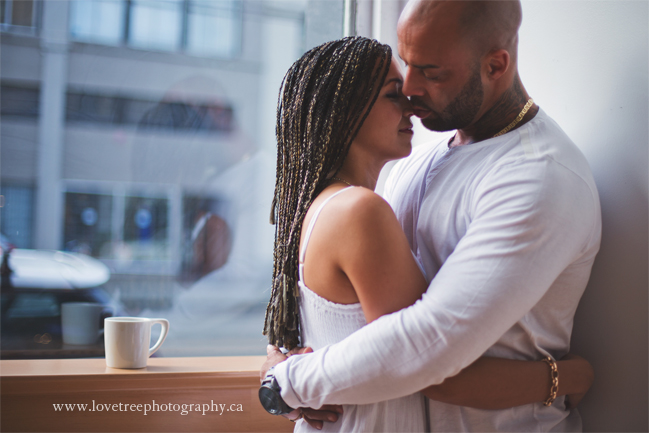 Coffee Shop Engagement Session | Naomi + Parker
I'm just gonna come out and say it. Naomi and Parker's coffee shop engagement session is ridiculously adorable. I always feel proud of images, when I wish that I was the one in them, and I definitely wish that I had some images of me like this.
When we first sat down and chatted with Naomi and Parker, and discussed what sort of things they do together, they mentioned that they spend a lot of their time just relaxing with a cup of coffee in their hands while they enjoy each other's company. So we took these two coffee connoisseurs to Timbertrain Coffee Roasters, since our friend Stephanie Koo's husband Jeff had just opened up his coffee shop outside of Gastown. What is amazing about Timbertrain is that they roast their own coffee beans and then slowly hand pour the water through the ground beans using a bit of love and science to perfect the most glorious cup of coffee you'll ever have. Big ups to Jeff at Timbertrain who not only provided us with some excellent coffee, but allowed us to use their amazing space to create so art while staying true to what Naomi and Parker love! I love when we get an opportunity to really blend both storytelling and art into one!
I was so excited to show Parker and Naomi what their love looks like, and was so taken aback seeing their eyes well up with tears roll down their cheeks,  totally moved by the images we created. Knowing that others wanted to help us create this including Gemma Spierings who helped out with makeup, and really connecting with our clients – has made this whole experience truly humbling.
From our hearts to yours, enjoy.