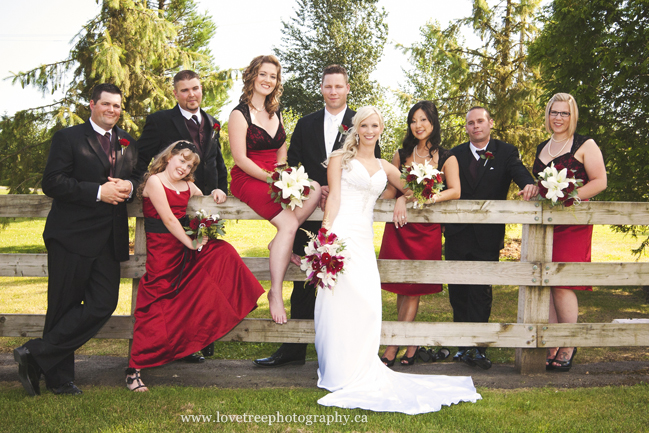 August is here and it is finally beginning to feel like summer has arrived! Michelle Dixon (Michelle Lana Photography) and I have been working together on a number of weddings this summer. Michelle has been helping me out with my clients by second shooting some of my weddings, and in exchange I have been second shooting her weddings. On August 6th I was given the pleasure of joining her to cover Heather & Morgan's fabulous Redwoods Golf Course Wedding. With rich reds and golds this elegant outdoor wedding was one of the nicest I've been to in a long time!
The day started in Langley where Heather and the girls got ready together, we then headed to The Redwoods Golf Course in Walnut Grove for a spectacular ceremony under the trees. Heather looked absolutely divine in her column-style wedding dress, and Morgan looked charming as ever in his white tie/shirt/vest and black jacket combo. After the ceremony we headed out to a large open field near Fort Langley where we shot the newlywed's solo & group portraits. The couple also brought along a couple of hand-painted parasols from Blue Karat (a company that makes beautiful wedding photography props). Before heading back to Redwoods for dinner we made one final stop along an old railroad track for a few portraits of the two of them in the late afternoon sun. Dinner, provided by their in-house caterer was positively scrumptious. (Fancy dinners are one of the perks of wedding photography! I don't normally eat much in the way of red meat but I had what was hands down the best filet I've had in a very, very long time!) After dinner the couple cut their whimsical topsy turvy cake and then hit the dance floor for a very pretty and classic waltz. After the dance floor opened we snuck off for just a couple more romantic shots in the setting sun. The golden hour is easily the best time of day to shoot portraits and I highly recommend it to any brides/grooms looking for some amazing portraits that really stand out!
Congratulations to Heather & Morgan! Thank you, thank you, thank you for letting me into your lives and allowing me to photograph your beautiful day!