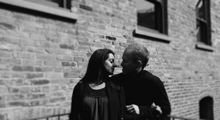 Vancouver Engagement Session | West-End | Gastown | Soriah + Jorden
I met up with Soriah & Jorden just outside of the Sylvia Hotel down at English Bay this week to capture this Vancouver engagement session. The hotel is all covered in ivy this time of year and looks really great.
We shot all along the beach looking into Kits, then we headed over to Vanier Park for some fun ones looking back into the West End where they reside. After we headed into Gastown for few romantic ones. I had a great time shooting with them – they were so easy going that the creative process came so naturally!
Congratulations to Soriah & Jorden, and best wishes for your destination wedding!