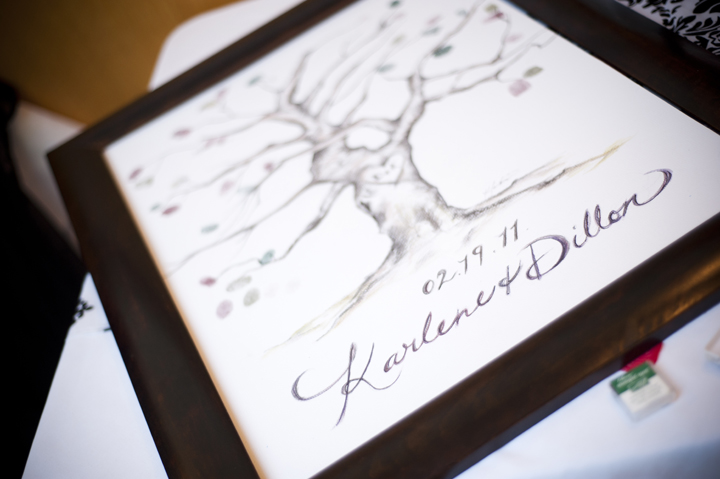 Vancouver wedding photographer, Kendra Coupland discusses & shares some of her favourite bold, modern & fabulous wedding finds.
It may not be the fastest growing trend in weddings but it is one of the cutest trends in weddings at the moment. I'm talking about
Thumbprint Tree Guestbooks
I first saw one of these gorgeous little keep sakes at Dillon & Karlene's wedding last February at the Chateau Cargill in Surrey. Instead of having their guest sign a traditional guestbook their guest dipped their thumbs into a little inkpad and stamped a gorgeous tree with a thumb print leaf. Each of the leaves on the tree represented someone who had touched their lives – what a gorgeous memento! It now hangs on the wall in their home as a beautiful heirloom and reminder of their perfect day!
Guestbooks have the potential to be fantastic heirlooms but unfortunately most people just sign them with their name & addresses and say something boring like "congratz" and you never look at them again, just like your highschool yearbook. With the thumbprint guestbooks you can transform your guestbook into a fabulous piece of wall art that you will enjoy looking at time & time again.
Of course you are not just limited to a tree! There are all sorts of creative ways to make this thumbprint guestbook your own! Each thumb could be a balloon in a bunch or a feather in a peakcock tail – the ideas are endless!
So where do you score one of these bold, modern, fabulous thumbprint guestbooks?
We'll you can commission one from an artist through Etsy for relatively cheap (around the cost of a regular guestbook $30 – $100, depending on the artist.) The image below was created by "The Ink Lab" and is available through Etsy for purchase for $100.
If you are more of a DIY kinda bride you can always make your own! Even if you aren't that artistically inclined there are plenty of templates available for download. Check out "I Do" It Yourself for some ideas for these alternative guestbooks.
You can even buy inks that match your wedding colours so your thumbprint tree coordinates with the rest of your wedding!
A couple of tips to keep things going smoothly at the guestbook table:
* If you have children attending your wedding be sure to have a guestbook table attendee who can help supervise so you don't have little over-zealous fingers wrecking your gorgeous linens!
* Buy small, washable ink pads with quick dry ink to avoid messes & smudging.
*Keep baby wipes on hand to make cleanup a breeze for your guests.